DZ383 was used from 1943 up to 1945 by the 540th Squadron of RAF.
Amongst others by the film production unit of 138 Wing 2nd TAF in Benson, Oxfordshire England .
The 540th Squadron was formed on 19.Octobre 1942 in Leuchars , Scotland from the H&L Flights Photographic Reconnaissance Unit.
It was equipped with Mosquitos and carried out photo reconnaissance missions over Norway and the Baltic.
In February 1944 it moved to Benson and was involved in the Normandy invasion.
It also carried out missions into Austria and the Canary Islands .
In March 1945 the Squadron moved to France , later returned to Benson again and disbanded
on 30 September 1946 .
The squadron reformed on 1 December 1947 and used Mosquitos again, later Canberras PR3 /PR7 for photo reconnaissance missions. On 31 March 1956 it moved to Wyton , England and was finally disbanded on 31 March 1956
The Motto of the 540th Squadron was: "Sine qua non" (Indispensable)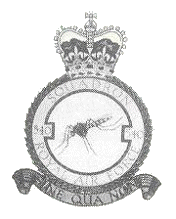 The DZ383 was used by several Squadrons and had no squadron markings.
A polish airman wa s given the job to paint a question mark "?" on the fuselage.
Accidentally he reversed (mirrored) the "?" on the opposite side, what caused a lot of laughter and confusion.
So she was known as "Query".
To the color scheme were temporary added the "Invasion Stripes" .


When the 138 Wing moved to

France ,amongst other, she was used to transport beer rations…

My model of DZ383 , shows another color scheme in PRU-Blue without any markings, which was used also (look at original picture), probably before the other one, but I was not able to find it out. Another detail, which I found out after I finished the model: there were two extra windows in the nose (look at original picture),…too late to add this to my model.

DZ383 was flown amongst others in September 1944 by Flight Lieutenant Vic.A.Hester and Cameraman Ted Moore by the operation "Market Garden" (airborne drop to take the most important Dutch Rhine bridges in Eindhoven Nimwegen, Arnheim ) and…..he told me himself (!!!) from Flying Officer Robert Kirkpatrick and Cameraman Sgt. Ray Hearne during the Shell House raid (attack on the Gestapo Headquarter in Copenhagen, Danmark)

.

"Operation Carthage"

He picked DZ383 up at Cambrai from 138 Wing and followed the 3rd wave during the Shell House raid to film the attack.
They got hit in the starboard engine nacelle by what later was determined to be a 20mm armor piercing shell.
Because of this they lost the pneumatics and had no brakes or radiator flap controls.
Although they landed safely, Sgt. Ray Hearne was ferried back to Rosierre by Sgt. Bone in a MK VI,
Flying Officer Robert Kirkpatrick left 383 at the field near Norwich.
The original picture shows him and Sgt. Hearne after the mission in Rackheath, Norfolk in front of DZ 383.

References:


Britische Luftwaffe, Daniel J. March Tosa Verlag ISBN 3-85492-474-7


...and lots of information from the Internet.

Special thanks for kindly support to Mr. Robert Kirkpatrick and Mr. Derek Carter

Mr. Robert Kirkpatrick unfortunately passed away in 2014, here are two articles from "Vintagewings" about him.

Rest in Peace, Bob !

Per adua at Astra

The last Cathaginian